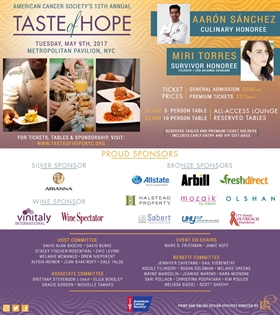 AMERICAN CANCER SOCIETY CELEBRATES
12th ANNUAL TASTE OF HOPE
Celebrated Chef Aarón Sánchez Named Culinary Honoree
Miri Torres Spotlighted as Survivor Honoree
CBS News' Chris Wragge is back to Emcee
NEW YORK (April 2017) – The American Cancer Society will host the 12th Annual Taste of Hope on Tuesday, May 9th, at the Metropolitan Pavilion in New York. The signature culinary, wine and spirit tasting provides the 800+ guests the opportunity to enjoy bites from New York City's top restaurants and philanthropic chefs, and sips from leading winemakers and spirit brands. This year's soiree will recognize Chef Aarón Sánchez as the Culinary Honoree and Miri Torres, Founder and CEO of Arianna Skincare, as the Survivor Honoree. CBS News' Chris Wragge and actor Richard Kind are back to Emcee. Since its inception, Taste of Hope has raised more than $1.6 million to support the American Cancer Society's mission to save lives and lead the fight for a world without cancer.
More than 50 restaurants are scheduled to participate including: Alidoro, AG Kitchen, Bareburger, Ben & Jack's Steakhouse, Calle Ocho, Delicatessen, Luke's Lobster, Serendipity 3, Morris Tap & Grill, Sprinkles Cupcakes, Tavern 62, Rock Center Café, The Smith and more.
Attendees also will have the opportunity to bid on silent auction prizes donated from leading organizations including: Fresco By Scotto, New York Yankees, JetBlue, Beauty & Essex, Crosby Street Hotel and Tod's Group to name a few.
Corporate support for this year's event has been received from the following: Arianna Skincare, Allsate, Arbill, freshdirect, Halstead Property, Sabert, UHY LLP and VTV Outreach Foundation.
Premium tickets to the tasting are $275 each with early entry at 6:00pm. General Admission tickets are $200 each and are welcomed from 7:00 pm onwards. Tickets are on sale now at www.tasteofhopenyc.org
For more information about the event visit www.tasteofhopenyc.org, follow @ACSTasteofHope on Twitter and Facebook www.facebook.com/tasteofhope. If you cannot attend the event but wish to becoming a sponsor or donate a gift to the American Cancer Society, please visit the website.
About Chef Aaron Sanchez
Nationally-known Chef Aarón Sánchez is Chef/Partner of Johnny Sánchez, with locations in Baltimore and New Orleans. He is the co-star of Food Network's hit series, Chopped, and the host of Cooking hannel's Emmy-nominated Taco Trip. He also is the host of two Spanish-language TV series on FOX Life; 3 Minutos con Aarón and MOTOCHEFS. Chef Sanchez's passion, commitment and skills have placed him among the world's leading contemporary Latin chefs.
Celebrated by critics and contemporaries alike, Chef Sanchez won a James Beard Award for Television Studio Program and appeared at the White House as a guest chef. He has starred on multiple Food Network shows including: Guilty Pleasures, Best.Ever, Heat Seekers, Chefs vs. City, Best Thing I Ever Ate, and Next Iron Chef.
Chef Sanchez has written two books, "La Comida del Barrio" (2003) and "Simple Food, Big Flavor: Unforgettable Mexican-Inspired Recipes from My Kitchen to Yours"(2011). In addition, he has designed a line of cookware products in collaboration with IMUSA and is a spokesperson for their Global Kitchen line.
About Miri Torres
This year's Survivor Honoree is the Founder and CEO of Arianna Skincare, Miri Torres. Torres was inspired to create an all-natural skincare line after her struggle with stage 4B Hodgkin's Lymphoma, which she was diagnosed with in 1998. After aggressive chemotherapy treatments, she saw signs of eczema as well as rashes that covered her entire body. Her skin was sore, tender and her immune system became weak due to her aggressive treatments.
Throughout her healing process her focus became on finding a solution to help repair her skin naturally. She searched for products that were natural and gentle on her skin but also offered the same amount of effectiveness as other chemical-based products. During her research Torres found her answer from the lowest place on earth: The Dead Sea. Although the historic Dead Sea had been providing anti-aging and therapeutic benefits for thousands of years, it remained an un-tapped resource in the world of skincare.
About Taste of Hope:
Taste of Hope® was founded in 2005 by the American Cancer Society as a way to celebrate New York dining while raising funds to help the Society's mission to fight for every birthday threatened by every cancer in every community. Between the early 1990s and 2013 the Society has seen a 20 percent decrease in the overall cancer death rate, which means they have helped to avoid about 1.2million cancer deaths and created the potential for more birthday celebrations.